Item
REI Co-op Graphic Camp Mug - 12 fl. oz.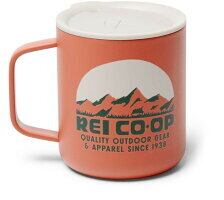 二重壁の真空断熱材が、飲み物の熱や冷たさを何時間もキープします。高品質の18/8ステンレススチール製。移動中に飲み物がこぼれないようにするためのフタが付いています。

マグカップとフタはBPAフリーです。

容量(L)/ 0.35 リットル

素材 / 18/8ステンレススチール

寸法 / 9.5×8.3cm

重量 238g
¥4,400
*Tax included.
*Additional shipping charges may apply, See detail..

About shipping fees
The shipping fee for this item varies by the shipping method. Customers can choose the shipping method at time of purchase.
2.5kg まで

Shipping Fees are the same in all countries outside Japan ¥7,500
*Japan domestic shipping fees for purchases over ¥11,000 will be free.